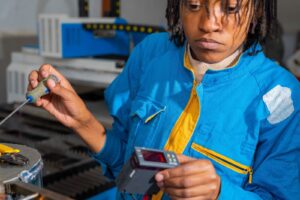 In a male-dominated engineering industry, young female engineers face unique challenges and barriers that can be discouraging and limiting.
Meet Mary Njuguna, an electrical engineer at Savanna Circuit who is determined to overcome the obstacles and make a significant impact on the industry's growth and progress. Determined to carve out her path to success. Mary dreams of working on exciting projects and making a difference in the world. Yet, she finds herself confronted with the requirement for more years of experience to access certain opportunities. The lack of experience can be discouraging for the youth. 
Working in a fast-paced environment with tight deadlines, she has developed the skill of time management. Through growth and development, she can prioritize tasks while at the same time taking care of herself. "I don't thrive well under pressure, so it really wears me down when there are tight deadlines and client demands. I've learnt to prioritize duties so as to meet deadlines without stressing my body out." 
Learning also how to navigate the workplace ensuring her voice is heard. With the majority of the production team is male, with her views getting brushed off.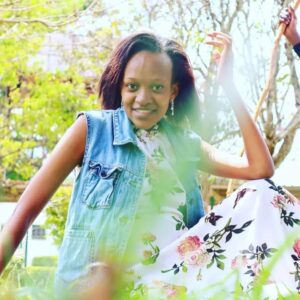 Another significant barrier Mary encounters is the scarcity of mentors who genuinely want to support and guide her development. Mentorship plays a crucial role in career development, and having mentors who believe in her potential would be immensely beneficial.
 Fortunately, her workplace at Savanna is an exception. Savanna embraces a commitment to achieving a 60% female staff ratio, creating an environment that is supportive and inspiring. Here, she can focus on her work without feeling limited by stereotypes.
"Three things: it's female and youth-led, I'm offered so many opportunities that help me grow professionally and in knowledge, and it offers green solutions."
Despite the encouraging atmosphere at Savanna, Mary recognizes that the industry, in general, perpetuates stereotypes, especially from clients and more experienced professionals. As a young female engineer, she must constantly persevere and demonstrate her abilities to overcome these preconceptions.
To address these challenges, Mary believes it is essential to create forums not only for young female engineers but also for mentoring young people from an early age. Programs like the "She for She Engineers" initiative by IEK are steps in the right direction, offering invaluable mentorship and guidance to young professionals like her. 
Mary firmly believes that by empowering young people early on, the industry can tap into their potential and foster skill development through initiatives like the Competency-Based Curriculum (CBC).
Furthermore, Mary is determined to make relevant platforms more affordable to ensure inclusivity. By reducing financial barriers, she envisions a future where more young engineers, regardless of their background, can actively participate in professional growth opportunities and networking events.
 After all, Mary knows that the capabilities of young engineers like herself are not limited by age, and with the right support, they have the potential to create a positive impact and secure the future of the industry.