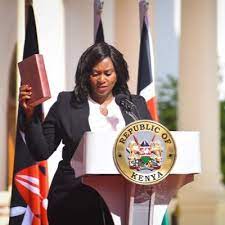 Kenya has made significant strides in its commitment to food safety. On June 7th, 2023, during the celebration of the 5th World Food Safety Day, Kenya signed a joint community Memorandum of Understanding (MOU) to reinforce its dedication to this crucial issue.
At the event, Mary Muriuki, the Principal Secretary of the State Department of Health and Professional Standards, emphasized the need for collaboration among countries to address foodborne diseases in Africa. Kenya aims to achieve this by promoting food safety practices, including proper food hygiene and reducing post-harvest waste. These efforts will not only protect public health but also foster fair trade.
Furthermore, Kenya's commitment aligns with the African Vision 2063 and the United Nations Sustainable Development Goals (SDGs), both of which recognize the significance of food safety. Kenya has actively contributed to the development of international food standards, guidelines, and codes of practice, particularly through its involvement in the Codex Alimentarius. By implementing these regulations during food production, Kenya aims to improve sustainability and fulfill its responsibility towards ensuring food security.