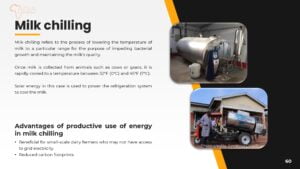 Our efforts as Savanna Circuit Technologies have been recognised by The Africa Solar Industry Association [ AFSIA]. The go-to association in Africa for anything solar related for paving the way to a bright future driven by solar energy. 
Gaining recognition by feauturing in the 2023 catalog that focuses exclusively solar-based PUE solutions (also referred to as PULSE – Productive Use Leveraging Solar Energy). http://afsiasolar.com/data-center/pue-catalog-2023/Solar irrigation and solar cooling solutions are probably the most well-known solutions, but there are many other PUE solutions already available in the market and which demonstrate great results in several applications.
The PUE Catalog aims at identifying all currently available solar-based PUE solutions, listing companies currently distributing these solutions, as well as sharing business case specifics for each solution so that more solar stakeholders can become aware of the amazing potential of PUE to unlock economic activity and improve livelihoods in Africa.